2016 has earned a reputation for taking away a large number of celebrities. Read on to be reminded of a few.
But bear in mind that the number mentioned here is only three more than the celebrity deaths I reported last year. You can count them if you like!
January
2016 begins with terror warnings across Europe. New Year celebrations cancelled in several cities.
Women in Cologne subjected to sexual and violent assaults.
Flooding continues across north of England and Scotland.
N Korea claims to carry out successful H bomb test.
Mumbai schoolboy cricketer Pranav Dhanawade scores 1,009 runs in one innings.
North Scotland beats January rainfall record in just six days.
Australian bushfires.
Environment Agency chairman Sir Philip Dilley resigns for holidaying while England drowned.
UK astronaut Tim Peake completes his first space walk.
Serious injuries, including one brain dead, in French drug tests.
26 killed and 56 injured in terrorist attack on Burkina Faso hotel.
England beats South Africa in the cricket Test.
New York and Washington DC brought to a standstill by snow.
Five whales beach on UK coast.
Crossed the Styx
David Bowie starred in Labyrinth
MASH
star Wayne Rogers, 82. (Trapper John)
Singer Natalie Cole, 65.
Music producer Robert Stigwood, 81. (
Bee Gees, Cream
)
Composer Pierre Boulez, 90.
Sussex fast bowler Matthew Hobden, 22.
Warwickshire County bowler Tom Allin, 28. (fall)
Actress Sian Blake, 43, and her children Zachary, eight, and Amon, four. (murdered)
DJ Ed "Stewpot" Stewart, 74.
Singer David Bowie, 69.
Actor Alan Rickman, 69.
Bergerac
writer Robert Banks Stewart, 84.
Grizzly Adams
actor Dan Haggerty, 74.
Mott The Hoople
drummer Dale Griffin, 67.
Eagles
vocalist and founder Glenn Frey, 67.
Vietnam's good luck symbol, Yangtze giant softshell turtle, Cu Rua, age unknown.
Antarctic explorer Henry Worsley, 55.
Tory politician Lord Cecil Parkinson, 84.
Singer-songwriter Black (Colin Vearncombe), 53. (
Wonderful Life
)
Broadcaster Sir Terry Wogan, 77.
Actor Frank Finlay, 89.
February
UK scientists given go-ahead to modify human embryo DNA.
More whales beaching on UK east coast.
New York crane collapse kills passer-by.
Magnitude 6.4 earthquake hits southern Taiwan.
Gravitational waves detected in space.
At least nine killed and scores more injured when two passenger trains collide in Bavaria.
Stephen Fry quits Twitter (again) after BAFTA hosting row.
Virgin Atlantic plane returns to Heathrow after 'laser incident'.
Seven shot dead in Kalamazoo, Michigan.
Pound plummets amid Euro membership debate.
Building collapse at Didcot power station.
Tony Blackburn sacked by BBC over evidence he gave child abuse inquiry.
Ceasefire in Syria.
Over the rainbow bridge
Michelin starred chef Benoit Violier, 44.
Bugs Bunny voice artist Joe Alaskey, 63.
Earth Wind & Fire frontman Maurice White, 74.
Actor Raphael Schumacher, 27. (hanging accident on stage.)
BMX star Dave Mirra, 41. (self inflicted gunshot wound)
London marathon co-founder John Disley, 87.
Churchill's navigator Air Commodore John Mitchell, 97.
Indie band Viola Beach: Kris Leonard, River Reeves, Tomas Lowe, Jack Dakin and manager Craig Tarry, aged between 19 and 32. (car crash)
Former UN Secretary General Boutros Boutros-Ghali, 93.
Police Academy
star George Gaynes, 98.
Novelist Harper Lee, 89. (
To Kill a Mockingbird
)
Novelist Umberto Eco, 84. (
Name of the Rose
)
British cinematographer Douglas Slocombe, 103. (
The Lavender Hill Mob, Kind Hearts and Coronets, Indiana Jones
)
Father Jack actor Frank Kelly, 77. (Exactly 18 years after
Father Ted
co-star Dermot Morgan.)
Actor George Kennedy, 91.
March
Heavy snow hits the North of England
Total solar eclipse in Indonesia.
Northern lights visible as far south as Wales.
Car bomb in Ankara.
Gunmen attack Ivory Coast hotel.
Massive "St Patrick's Day" meteor seen across southern England.
Ian Duncan Smith resigns from cabinet over budget details.
England Rugby win the Grand Slam after beating France in Six Nations.
55 passengers and seven crew die in Russian plane crash.
Eddie Izzard completes 27 marathons in 27 days for charity.
Terror attacks on Brussels airport and metro station.
Bosnian Serb leader Radovan Karadzic sentenced to 40 years in prison for war crimes.
New Zealand votes to keep its flag.
Taliban suicide bomber at a Lahore, Pakistan park kills more than 70.
Police shoot armed man in US Capitol building visitor centre, Washington, DC.
Storm Katie wreaks havoc across the south of England.


Gone beyond
Coronation Street
creator Tony Warren, 79.
Former US First Lady Nancy Reagan, 94.
Ray Tomlinson, email inventor and selector of @ symbol, 74.
'Fifth Beatle' Sir George Martin, 90.
Prog rock legend Keith Emerson, 71. (self inflicted gunshot wound)
"Lady Penelope" Sylvia Anderson, 88.
Broadcaster Cliff Michelmore, 96.
Frank Sinatra Jr, 72.
Magician Paul Daniels, 77.
Kes
author Barry Hines, 76.
Netherlands footballer Johan Cruyff, 68.
"Larry Sanders Show"
Garry Shandling, 66.
The Waltons
creator Earl Hamner Jr., 92.
Belgian sports cyclists Antoine Demoitie, 25 (motorcycle collision) and Daan Myngheer, 22. (heart attack)
Actress Patty Duke, 69.
Comedian Ronnie Corbett, 85. "
And it's goodnight from him.
"
April
UK National Living Wage rises to £7.20 an hour.
Record £35.1m UK Lotto win.
PM David Cameron faces rising anger over tax avoidance.
Mississippi passes controversial 'religious freedom' bill allowing businesses to discriminate against gay couples.
Singer Bryan Adams cancels Mississippi tour dates in protest at new law.
6.4 earthquake hits Japan.
7.3 second quake hits Japan.
7.8 earthquake hits Ecuador
Extensive Roman villa found in Wiltshire.
Record breaking floods hit Houston, TX.
Queen's 90th birthday.
Retailer BHS files for administration.
Junior doctors strike, including emergency cover.
Hillsborough inquest decides fans were unlawfully killed.
Heavy snow hits Scotland and northern England.
Joined the choir eternal
ITV agony aunt Denise Robertson, 83.
Author Howard Marks, 70.
Paddington
illustrator Peggy Fortnum, 96.
Singer Tom Jones's wife, Melinda Rose Woodward, 75.
Playwright Arnold Wesker, 83.
Singer songwriter Merle Haggard, 79. (died on his birthday.)
Entertainer David Gest, 62.
Blake's 7
actor Gareth Thomas, 71.
London Underground 'mind the gap' announcer Phil Sayer, 62.
Everybody Loves Raymond
actress Doris Roberts, 90.
Comedienne Victoria Wood, 62.
Musician Prince, 57.
The last PG Tips chimp, Choppers, 48.
Hi-de-Hi!
actor Barry Howard, 78.
May
Leicester City win the Premier League (from being 5,000 to 1 outsider)
Wildfires sweep across Canada making many homeless.
BBC news team expelled from North Korea.
London elects Muslim mayor Sadiq Khan.
Queen filmed calling Chinese diplomats 'rude'.
1,000 homes evacuated in Bath following WWII bomb discovery.
18-year-old Max Verstappen becomes youngest ever F1 race winner.
State opening of Parliament.
Massive storm hits Europe with multiple lightning strikes.
Passed on
Astrologer Jonathan Cainer, 58. (heart attack)
Neighbours
producer Reg Grundy, 92.
World's oldest person Susannah Mushatt Jones, 116.
Actor Burt Kwouk, 85.
Ballroom dancing legend Peggy Spencer, 95.
Gorilla Harambe, 17, shot at Cincinnati zoo.
Archers actor Alan Devereux, 75. (Sid Perks)
Scriptwriter Carla Lane, 87.
June
World's longest tunnel opens under the Alps.
Floods hit large areas of western Europe.
River Seine reaches 30 year high.
Pre-EU Referendum rows.
Damage closes Gatwick airport runway.
England and Russia threatened with expulsion from Euro 2016 after street violence.
Gunman kills 49 people at a nightclub in Orlando, Florida.
Sir Clement Freud accused of abusing two girls.
US divided over Donald Trump's presidential campaign.
Labour MP for Batley and Spen Jo Cox shot dead after advice surgery.
Hair raising ride
Glass slide opens 1,000ft above Los Angeles.
Massive queues as mud prevents Glastonbury revelers accessing site.
Britain votes out of EU. Chaos ensues.
Deadly floods hit West Virginia.
Gudni Johannesson wins Iceland presidential election.
Suicide bomb attack on Istanbul airport.
Wettest UK June on record.
No longer present
Fairport Convention
fiddler Dave Swarbrick. 75.
Boxing legend Muhammad Ali, 74.
Playwright Peter Shaffer, 90.
Voice
US contestant Christina Grimmie, 22. (shot)
Wings
guitarist Henry McCullough, 72.
MP Jo Cox, 41. (Murdered after a constituency surgery)
Star Trek
actor Anton Yelchin, 27. (car accident)
Film music composer Harry Rabinowitz, 100. (
Chariots of Fire, Reilly Ace of Spies
)
Former NI secretary Lord Patrick Mayhew, 86.
NY Times fashion photographer Bill Cunningham, 87.
Trumpton
creator Gordon Murray, 95.
July
100th anniversary of Battle of the Somme marked by re-enactors in uniform across the UK.
Estimated 10,000 plus rally in London in opposition to Brexit vote.
Labour Party in chaos as MPs attempt to oust leader Jeremy Corbyn.
280+ dead in suicide bomb attack in Baghdad, Iraq.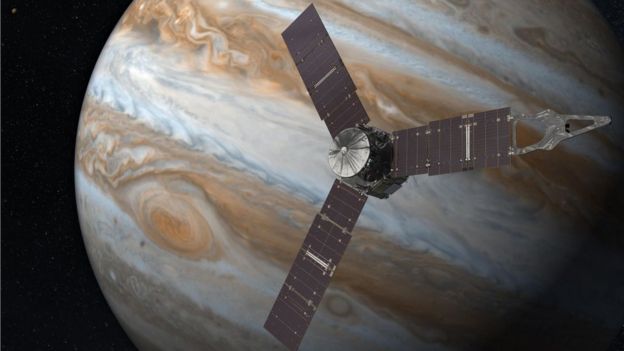 Juno around Jupiter
NASA's Juno probe enters Jupiter orbit.
Wales reach final four in Euro2016.
Oscar Pistorius given six years for Reeva Steenkamp murder.
Chilcot report on Iraq War.
Five police officers shot in Dallas, Texas in protests against police shootings of black men.
Sharp rise in UK hate crimes blamed on Brexit vote.
Chris Evans quits
Top Gear.
Mersey Ferry runs aground.
Theresa May moves in to Downing Street.
Bastille Day truck attack in Nice kills 84.
Three police officers shot in Baton Rouge.
Boris Johnson is Foreign Secretary.
Axe attack on train in Wuerzburg, Germany.
Nine dead in Munich shopping centre attack.
Long delays at Dover as French border security tightens.
Brexit blamed for steep drop in UK business turnover.
Suicide bomber kills himself and injures 12 in Ansbach, Germany.
19 killed in attack at care centre in Sagamihara, Japan.
Priest Father Jacques Hamel killed in church attack near Rouen.
Solar Impulse plane completes round-the-world journey.
Two car bombs explode at Mogadishu airport.
But not forgotten
Comedienne Caroline Aherne, 52. (cancer)
Film director Robin Hardy, 86. (
Wicker Man
)
UK's oldest resident Gladys Hooper, 113,
Matador Victor Barrio, 29. (gored by a bull.)
Jockey JT McNamara, 41. (fall)
Actress Vivean Gray,
Neighbours
' Mrs Mangel, 92.
Actor Jerry Doyle,
Babylon 5
's Mr. Garibaldi, 60.
The voice of Postman Pat, Ken Barrie, 83.
August
64-year-old Darlene Horton killed, and six injured in stabbing near British Museum in London.
Bank of England cuts interest to its lowest ever rate.
Olympics held in Rio.
- US tops medal table.
- UK beats 2012 medal haul.
- Jamaica's Usain Bolt wins three golds for third time.
- UK's Nick Skelton overcomes broken neck to win showjumping gold.
- Engaged couple Laura Trott and Jason Kenny dominate track cycling for UK.
- Mo Farah wins two golds to become UK's best ever track athlete. (Total 9 golds)
Series of bomb blasts across Thailand.
Cannes mayor bans "burkinis".
Three dead and thousands need rescue in Louisiana flooding.
Labour Party turmoil continues.
London Transport introduces tube "night trains".
China opens world's highest and longest glass bridge.
Unseasonable weather brings lethal high waves around UK.
- Father and daughter Rudy and Mckayla Bruynius die in Newquay.
- Mother and son Julie and Lucas Walker die off Aberdeen beach.
- Woman's body recovered from sea off Jersey.
- Man dies in rough seas off Dorset coast.
6.2 earthquake hits Italy. 120+ dead, hundreds more injured.
6.8 earthquake hits Myanmar. 1 dead. Many tourist attractions destroyed.
World's longest aircraft,
Airlander 10
, crashes.
Scientists discover earth-sized planet orbiting
Proxima Centauri
.
Italian earthquake death toll rises to almost 300 because of aftershocks.
Five friends die in quicksand accident at Camber Sands.
The last BHS stores close.
Russian SETI scientists detect unidentified signal from outer space.
Scientists say early hominid fossil 'Lucy' died from a fall.
Breathed their last
RIP2D2
Actor David Huddleston, 85. (
Santa Claus the Movie
)
Actor Barry Jenner, 75. (
Star Trek: Deep Space Nine
)
Gerald Grosvenor, 6th Duke of Westminster, 64.
R2D2 actor Kenny Baker, 81.
Comedy actor and charity campaigner Lord Brian Rix, 92.
Backstreet Boys and *N sync founder Lou Pearlman, 62.
Architects guitarist Tom Searle, 28. (cancer)
Yes Minister
writer Sir Antony Jay, 86.
Backpacker Mia Aycliffe-Chung, 21, stabbed in Queensland.
Tom Jackson, 30, who tried to protect Mia from her attacker.
Cookie the cockatoo, 83, world's oldest parrot.
The only proper
Willy Wonka
, Gene Wilder, 83.
September
7.1 earthquake off New Zealand
Hurricane Hermine hits Florida.
Government approves Hinkley Point power plant deal.
Rio Paralympics:
- Iranian cyclist Bahman Golbarnezhad killed in race crash.
- UK ends in second place with 147 medals (64 gold).
- Kadeena Cox is first Briton to win gold in two sports at same Olympics (athletics and cycling).
- Dame Sarah Storey wins record breaking 12th gold medal.
David Cameron resigns as MP.
Political boundary changes threaten Labour MPs seats.
29 injured in New York bomb attack.
Second bomb in New Jersey.
Aid convoy bombed in Syria.
"Brangelina" announce marriage break-up.
Great British Bake Off
sold to Channel 4.
Jeremy Corbyn wins Labour leadership campaign.
Labour Party internal conflict continues.
Plastic fivers hit the streets.
Collector sells three new £5 notes for £460.
Alton Towers operator fined £5 million for
Smiler
crash,
Paid the debt of Nature
Actor John Polito, 65. (
Homicide: Life on the Street
)
Iranian paralympic cyclist Bahman Golbarnezhad, 48. (crash during road race)
Actor Hugh O'Brian, 91. (
Wyatt Earp
)
Who's Afraid of Virginia Woolf?
playwright Edward Albee, 88.
Oscar-winning film writer and director Curtis Hanson, 71.
Actor Bill Nunn, 62.
Golfer Arnold Palmer,87.
Former Israeli prime minister Shimon Peres, 93.
Boxer Mike Towell, 25. (fight related injuries)
October
Hurricane Matthew hits the Caribbean.
- More than 1000 dead in Haiti
Diane James quits as UKIP leader after just 18 days.
Fracking given go-ahead in Lancashire in spite of local objections.
US election campaign increasingly acrimonious.
Trump 'groping' tape released.
Gorilla Kumbuka escapes from London Zoo.
Bob Dylan wins Nobel prize for literature.
Missing toddler Ben Needham died accidentally, police decide.
50th anniversary of Aberfan disaster.
European Schiaparelli probe crashes on Mars.
MPs call for BHS boss Philip Green to lose his knighthood.
France closes Calais migrant camp, the Jungle.
Titanic locker key sells for £85,000.
Fire devastates cathedral close in Exeter.
- 18th century Royal Clarence Hotel destroyed.
6.6 magnitude earthquake hits Italy
Beyond the veil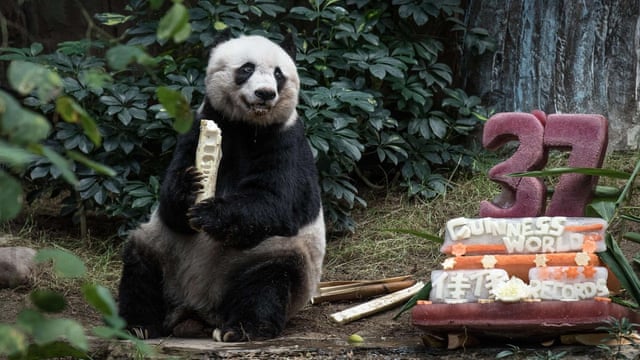 Jia Jia's 37th birthday party
British conductor Sir Neville Marriner, 92
Songwriter Rod Temperton, 66. (
Thriller
)
King Bhumibol Adulyadej of Thailand, 88.
Coronation Street
actress Jean Alexander, 90. (Hilda Ogden)
Oldest panda in captivity Jia Jia, 38.
Dad's Army creator Jimmy Perry, 93.
Comic book artist Steve Dillon, 54.
Dead or Alive singer Pete Burns, 57.
60s pop singer Bobby Vee, 73.
DJ Dave Cash, 74.
November
Gymnast Louis Smith suspended for three months over racist behaviour.
High Court says parliament must vote on Brexit.
Tennis player Andy Murray becomes world number one.
£2.5m stolen from Tesco bank accounts.
Donald Trump wins USA presidential election.
- Asian markets drop overnight
- Canadian immigration website collapses
Seven dead and 50 injured in Croydon tram crash.
7.5 earthquake and tsunami hit New Zealand.
Second quake hits New Zealand. (Magnitude 6.3)
Drone near-miss with Airbus A320 in London.
US Director of National Intelligence James Clapper resigns.
Strictly dancer Gorka Marquez attacked in Blackpool.
Jenson Button retires from F1.
Brazilian football team Chapecoense in air disaster.
Bought the farm
Robert Vaughn in The Magnificent Seven
Actor Don Marshall, 80. (
Land of the Giants
)
Broadcaster Sir Jimmy Young, 95.
Singer Leonard Cohen, 82.
Man from U.N.C.L.E.
Robert Vaughn, 83.
Musician Leon Russell, 74.
Cuban leader Fidel Castro, 90.
Actor Ron Glass, 71. (
Firefly
)
Actor Andrew Sachs, 86. (
Fawlty Towers
)
December
Nico Rosberg retires from F1.
Three feet of snow falls in Hawaii
Football abuse scandal continues.
6.5 earthquake in Indonesia. 100+ dead.
Kirk Douglas 100th birthday.
Bomb blast in Cairo.
Ceasefire in Aleppo fails in less than 24 hours.
Riot at HMP Birmingham.
Len Goodman retires from
Strictly Come Dancing.
Lorry drives into crowd in terror attack on Berlin Christmas market.
Driver later shot dead in Milan.
Russian ambassador Andrei Karlov shot in Turkey.
Explosion at a fireworks market outside Mexico City.
First Sahara desert snow in 40 years.
7.7 earthquake off Chile.
Severe cold prevents Queen from attending Christmas Day church service.
Cyclist Sir Bradley Wiggins retires from sport.
Russian President Vladimir Putin brokers peace agreement in Syria.
Joined the great majority
Porridge
actor Peter Vaughan, 93.
Green Hornet
actor Van Williams, 82.
Prog rock musician Greg Lake, 69.
Astronaut and US senator John Glenn, 95.
Sunday Times restaurant critic AA Gill, 62.
Former Conservative cabinet minister Lord (Jim) Prior, 89.
Weatherman Ian McCaskill, 78.
Shergar jockey Walter Swinburn, 55.
To Sir With Love
author E R Braithwaite, 104.
Heimlich manoeuvre inventor, Henry Heimlich, 96.
ITN war correspondent Michael Nicholson, 79.
Actress Zsa Zsa Gabor, 99.
Broadcaster Rabbi Lionel Blue, 86.
Status Quo's Rick Parfitt, 68.
Wham frontman George Michael, 53.
Actress Liz Smith, 95.
Watership Down
author Richard Adams, 96.
Star Wars
actress Carrie Fisher, 60.
Actress Debbie Reynolds, 84. (Stroke while planning daughter Carrie Fisher's funeral.)