Topiary at Levens Hall
Topiary - or curious greens as it was once called - was imported to England from the Netherlands, where it was a passion of Dutch gardeners. The first designs were simple, geometric shapes such as spheres and pyramids, but ambitions grew gradually until all manner of strange shapes were created from box and yew.
One of the most important topiary gardens in the UK is at Levens Hall in Cumbria. The garden was first laid out in the 1690s and has changed very little since. It is believed that some of the trees there are from the original planting. It was designed by Guillaume Beaumont, believed to have trained under Le Notre at Versailles, and one time gardener to James II.
Victorian taste at Elvaston Castle
The elaborate tree shaping soon went out of fashion, however, making way for complex planting schemes, parterres and sweeping vistas, and did not return to favour until Victorian times. The grounds at Elvaston Castle in Derbyshire were given a topiary revival in the 1830s.
Today topiary is mainly restricted to a few extremely elaborate structures in smaller gardens, designed to create one showpiece, rather than a large display.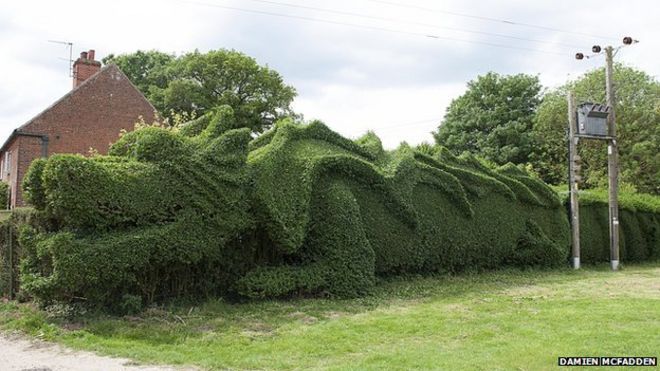 A modern example (Not my photo. Used with thanks.)